Prestigious Indian music academy teaches global students with TrainerCentral
"With the help of Zoho's TrainerCentral, we have made UKS School of Mrudangam available to global learners."
— Dr. Umayalpuram K. Sivaraman, Founder, UKS School of Mrudangam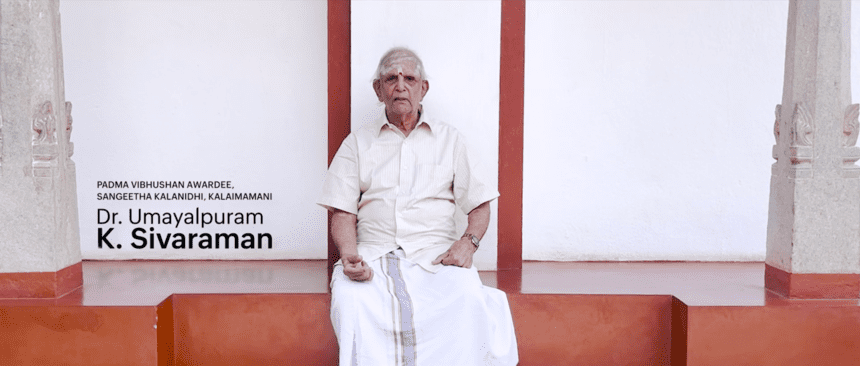 About
Born in December 1935 in the Kaveri Delta region of Tanjore, India, Dr. Umayalpuram K. Sivaraman became one of the greatest exponents of Indian classical music. The mrudangam maestro, who learned the art from many luminaries of that era, had his arangetram (an artist's debut performance on stage in Indian classical music and dance) in 1945.
Dr. Umayalpuram K. Sivaraman went on his first coast-to-coast tour of the United States in 1963. He was involved in several research works and introduced fiberglass mrudangam to the Carnatic music world. He has been recognized with many awards throughout his musical journey, including the Kalaimamani, Padma Shri, Sangeet Natak Akademi Award, Sangita Kalanidhi, Padma Bhushan, and Padma Vibhushan. He also received an honorary doctorate from the University of Kerala in 2010.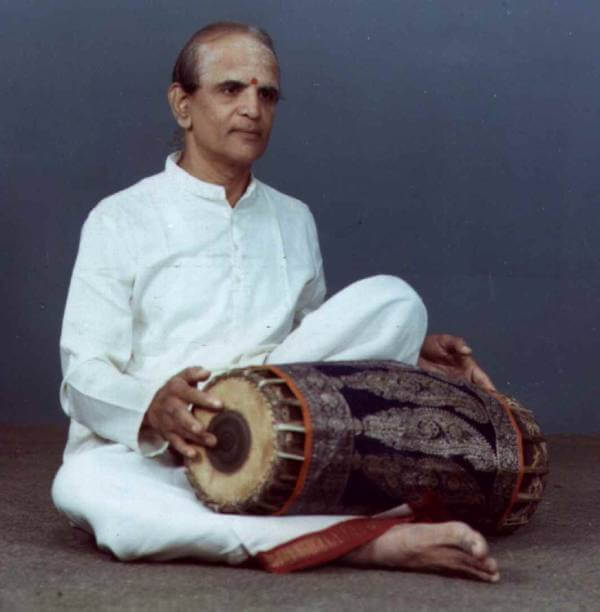 With the help of Zoho's TrainerCentral, we made the UKS School of Mrudangam available to all global learners in January 2022. We have made it possible for learners not only from India but also from any part of the world to enroll in our academy. It has been well received by many so far.
Dr. Umayalpuram K. Sivaraman,
Founder, UKS School of Mrudangam
The maestro started the UKS School of Mrudangam to teach the art to others and inspire his disciples with his expertise. Some of his most notable disciples include Erode Nagaraj, Madurai Sundar Balasubramaniam, and Trivandrum Hariharan.
However, with the onset of the global pandemic in late 2019, he was unable to continue his in-person classes.
Dr. Umayalpuram K. Sivaraman said "Due to the COVID-19 pandemic, I was unable to continue teaching my students in a physical environment. So, I shifted my classes to Skype and started teaching online"
The challenge
Once the maestro started using Skype to host online mrudangam classes, he realized that the tool was not enough to teach mrudangam to global learners. Dr. Umayalpuram K. Sivaraman believes that if someone is talented in a specific skill, it must be shared all over the world. So he needed a powerful and more advanced platform to share his mastery.
When he was introduced to TrainerCentral, he immediately shifted his classes from Skype to the new platform.
My wish is to impact learners across the world through the UKS School of Mrudangam. I believe that one's talent shouldn't stay just with themselves; it should be shared across the world
Dr. Umayalpuram K. Sivaraman,
Founder, UKS School of Mrudangam
The solution
In January 2022, the UKS School of Mrudangam entered a new era of knowledge sharing as an e-gurukulam (online academy) available to a global audience. With TrainerCentral, Dr. Umayalpuram K. Sivaraman's team started teaching to music students from all over the world.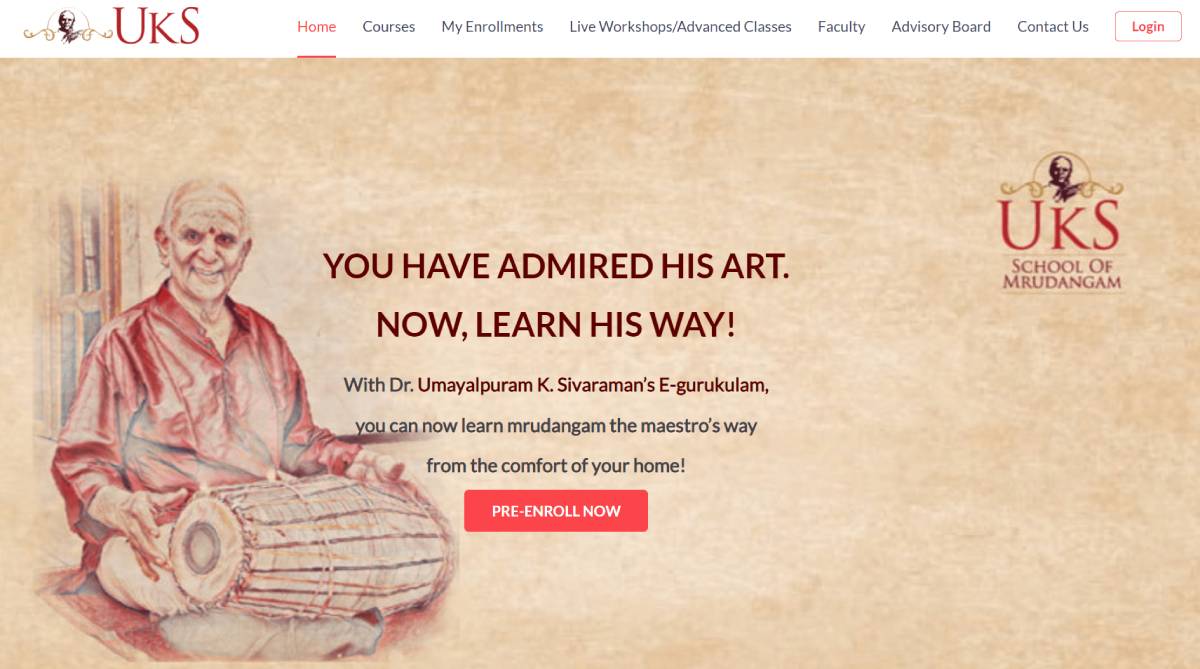 The UKS School of Mrudangam has designed and named their course "LEVELS," which spans more than six years. Each level is broken down into 12 modules, and each module has four sub-modules.
The course starts with a basic introduction to mrudangam, taking learners through the different types of techniques to master the instrument. With TrainerCentral, the teachers of UKS School of Mrudangam can share handouts so that students can go through important details once their daily classes are completed. Also, at the end of each module, the team can evaluate their students' understanding with an online test.
Benefits and ROI
Most classes are taught in real time with TrainerCentral's built-in virtual classroom capability, which doesn't require purchasing any additional licenses from external webinar tools. The platform records live sessions in high definition and can be sent to learners for further reference.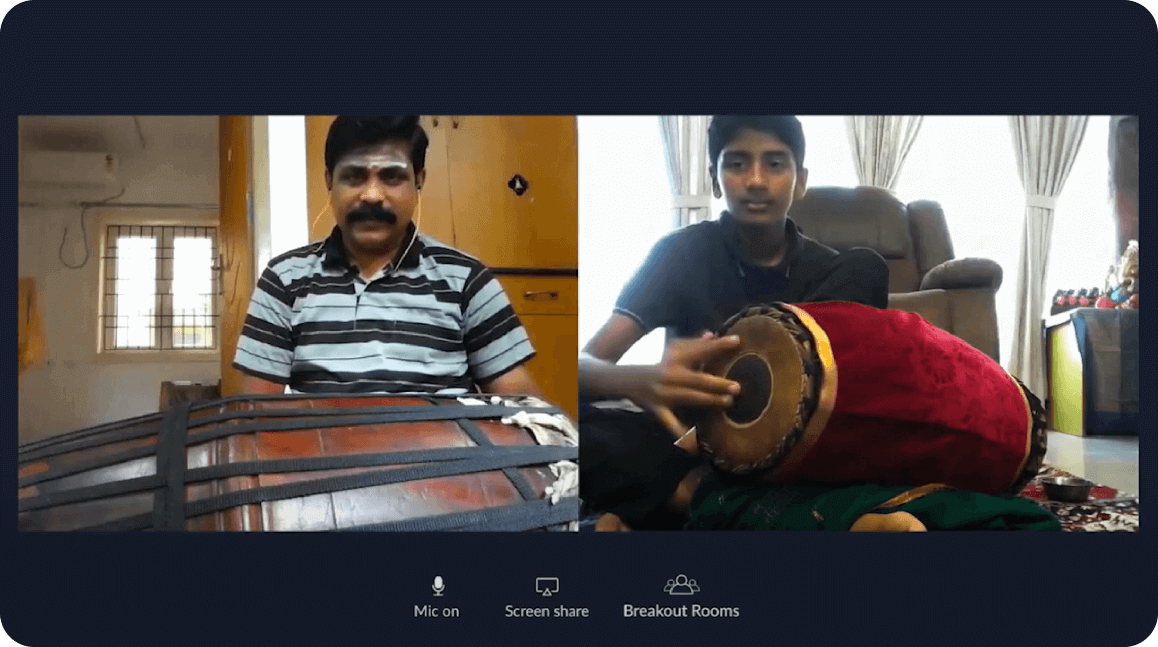 We are now hosting online classes for more than 60 learners from different time zones. The platform's ability to share multiformat course materials, record videos from live classes, and distribute handouts to learners have been greatly helpful to us. Now, we host online classes in high resolution that span more than 60 minutes each. We find it so easy to interact with our learners using the platform
N. Hariharan,
Trainer and disciple of UKS
Looking forward
Since his arangetram as a 10-year-old boy, Dr. Umayalpuram K. Sivaraman has performed all over the world—often alongside legendary musicians—and has given many solo performances. Everyone at TrainerCentral is so proud to be a part of his journey in preserving the roots of traditional Indian music and sharing his expertise of mrudangam with the world.
I must thank Zoho's TrainerCentral for their continued support to help UKS School of Mrudangam reach a global audience
Dr. Umayalpuram K. Sivaraman,
Founder, UKS School of Mrudangam